October 2011: David's tips included in The Artist's Magazine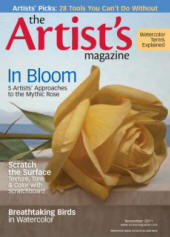 The November issue of The Artist's Magazine is on stands now. One of the articles features 28 "tried and true" tools and tips provided by several artists. Two of David's unusual tools have been included.
To read this and all the other great articles, get your copy on stands now. In case a newsstand isn't nearby, here are two links that can be used to conveniently order this issue:
Print version:
http://www.northlightshop.com/product/print-issue-the-artists-magazine-november-2011-ta1111/?r=tamchhp100411ta1111&lid=tamchhp100411ta1111
Digital download:
http://www.northlightshop.com/product/the-artists-magazine-november-digital-download-w2221/
To read more about the magazine visit http://www.artistsnetwork.com/the-artists-magazine
With a circulation of over 140,000 copies, The Artist's Magazine is the world's leading magazine for artists. It focuses on spotlighting the processes of the best artists working today, while keeping readers abreast of professional practices that can help advance their own careers. A regular contributor in the "Drawing Board" column, David has also won First Place in the magazine's prestigious Annual Competition (Animal/Wildlife category), and was later honoured to serve as its Juror.