December 2007: First Place in Artist's Magazine Annual Art Competition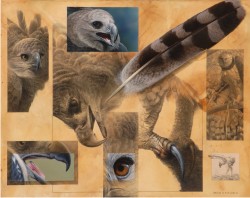 David's "Harpy Eagle Montage" was awarded FIRST PLACE in the Animal Art category during The Artist's Magazine 24th Annual Art Competition. Furthermore, his "Watchful Gaze - Common Marmoset" was also selected as a finalist.
This is an amazing accomplishment and David is honoured to have been included among "The Year's Best Art".
Winners in all categories will be featured in the December issue of the magazine. If you don't already subscribe to the magazine, make sure to get your hands on this issue and check out the judges' critiques. Alternatively, you can read the article at http://www.artistsnetwork.com/articles/inspiration-creativity/2007-animalwildlife.
David got the inspiration for this award-winning piece during the first-ever Artists for Conservation Flag Expedition, when he spent a month in the jungles of Panama observing, studying, and gathering reference material on the Harpy Eagle and its habitat. Check www.artistsforconservation.org/programs/flag-expeditions to read all about it.