October 2013: AFC Festival Highlights - "Quick Sketch" and Youth Programs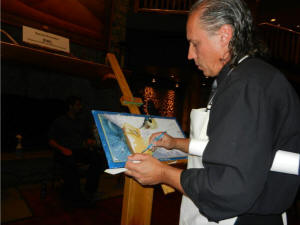 Although the weather didn't always cooperate, the 2013 Artists for Conservation (AFC) Festival did not disappoint. The world's top conservation-themed exhibit included 80 original paintings and sculptures, along with documentary films on art and conservation, special guest lectures, live painting demos, workshops, wildlife encounters, music, cultural performances and much more.
During the opening festivities, David and a few fellow artists participated in a "Raptor Quick Sketch," where they had only one hour to complete a drawing or painting of one of three living wildlife ambassadors. The artwork created in front of the audience was later included in a live auction, with funds going to support AFC programs.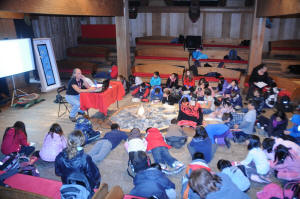 As part of this year's Festival, David was also excited to be part of the Youth School Workshops, a unique program designed to connect youth with nature through visual arts, while building awareness around environmental guardianship.
The program featured several fun and creative activities (indoors and outdoors) exploring nature and species conservation, with a special focus on the importance of being an environmental guardian and how we can minimize our impact. Activities included an interpretive eco-walk, a gallery tour, a documentary film, First Nations cultural presentation, and a special hands-on workshop, where David was able to share his artistic talent along with his understanding and passion for wildlife and habitat conservation. Students left an Environmental Guardian certificate, and finished artwork.
For more information about Artists for Conservation and their programs, visit the AFC website at www.artistsforconservation.org. To see more of David's photos of the event, check out the "Artists for Conservation 2013" album on his Facebook page (www.facebook.com/davidkitler).