May 2013: David's work once again featured in International Artist Magazine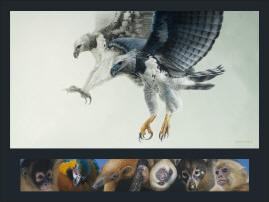 David's "Harpy Eagle - Talons" has been selected as a finalist in the International Artist magazine Challenge #75 "Wildlife" competition. The magazine devoted a full page to this image in the Jun/Jul 2013 issue, which was accompanied by a discussion of the inspiration for this painting, as well as David's painting process.
International Artist is the magazine for artists by artists from around the world, and David is thrilled to once again have his work featured in the prestigious publication (more info at http://www.international-artist.com/).
The "Harpy Eagle – Talons" original is part of the SAA's 52nd Annual "Art and the Animal" Exhibition national tour, and can be viewed until the end of June at the Kenosha Public Museum in Kenosha, WI (http://www.kenosha.org/).