April 2010: Harpy Eagle painting continues to be used to support conservation education in Panama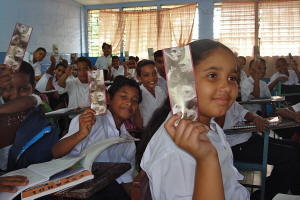 David's Harpy Eagle image continues to be used to support education and conservation efforts in Panama, fulfilling the objectives of his AFC Flag Expedition.
The Audubon Society of Panama, in conjunction with the Patronato Amigos del Águila Harpía (Harpy Eagle Friends Foundation) have produced 5,000 bookmarks of David's "Harpy Eagle - Portraits". The Harpy Eagle is Panama's national bird, and the bookmarks are designed to promote its appreciation and conservation.
In March 2010, the Audubon Society started its school program, Aulas Verdes (Green Classrooms), and recently visited one of the schools involved in the program. National Harpy Eagle Day is May 10, and they delivered the bookmarks to the students as a reminder that this day was approaching.
Bookmarks were also sent to another school that is involved in the program and is located in San Carlos, close to El Valle de Antón.
Check out previous news items for more details on this program.