June 2009: Drawing Technique Article in July/August issue of The Artist's Magazine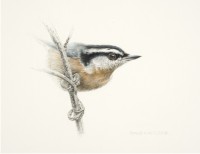 David's article, "Draw Realistic Animals", has been published in the July/August 2009 issue of The Artist's Magazine as part of their "Drawing Board" column. In the article, David shares techniques and tips for drawing (and painting) wildlife, using a red-breasted nuthatch as his subject. The final product is his "Nuthatch I Preliminary Sketch".
David also prepared a more detailed demonstration of the process he used to draw the bird's eye, which can be read online at www.artistsnetwork.com/article/demo-bird-eye.
If you don't already subscribe to the magazine, there is still time to get your hands on this issue, which is bursting with very informative articles for artists of all levels.