March 2007: The impact of the first-ever AFC Flag Expedition continues...
Llano Bonito
It is Monday, March 12, 2007. In a remote village in the Panamanian Darien jungle, a few lucky kids are starting the school year with brand new backpacks, notebooks, pens, pencils...
In February 2007, David and his then wife Ly returned to Llano Bonito, where they handed the villagers hundreds of pounds of school supplies and baseball equipment, as well as other donated items, including fabric, toothbrushes, toothpaste, etc. It took five horses (and a 3-hour hike) to get all of the supplies from the closest town to the village. Thanks to all who donated, and the logistical support of Advantage Tours (www.advantagepanama.com), there were a lot of happy faces. The natives were simply overwhelmed by the fact that so many people, from so far away, had cared so much as to try to help their children and their community.
If you have been a part of this effort, take a minute to pat yourself on the back! The community of Llano Bonito thanks you. Your kindness and generosity has made a real difference in their lives.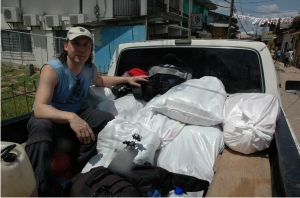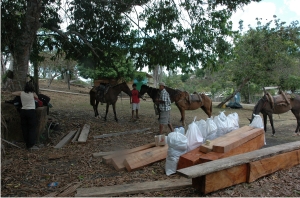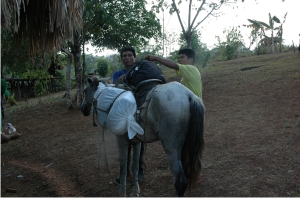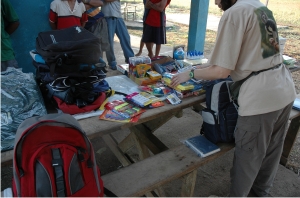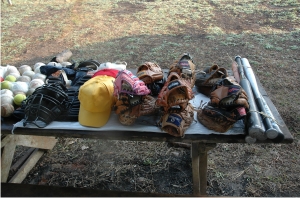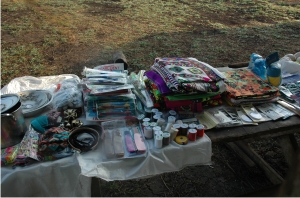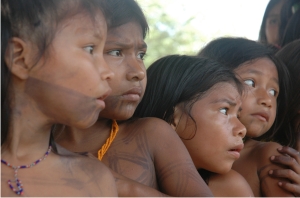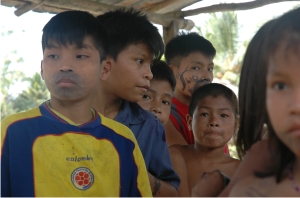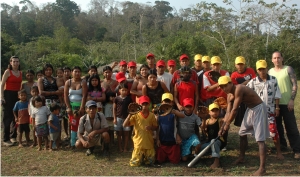 Sad News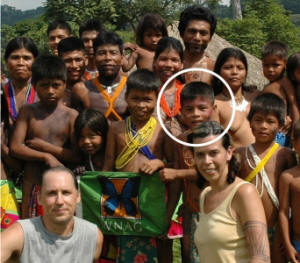 David had promised that he would give the villagers copies of all the photos taken during his first visit. The natives are not used to seeing themselves in print; so they had a lot of fun passing the photos around, something that was inevitably accompanied by much laughter and giggling. David had also plaque-mounted the "family portraits" that were taken at that time, so that the photos would withstand the humid conditions in the jungle.
For one of the ladies, Ilma, the delivery of her family portrait was, instead, followed by tears. She explained that one of her sons, 9-year old Omar, had been killed a few months earlier by a snake (fer-de-lance). David worried that the photo had upset her. On the contrary; it turns out that she was sad but grateful, because now she would always be able to look into Omar's little face.
If you look at the photo of the villagers taken during our first visit, Omar is the little boy holding the AFC/WNAG Flag behind Ly, and his mother is the smiling lady standing behind him and to the left. Omar's story stands as a reminder of how precious each moment of our lives is. None of us knows what tomorrow might bring, so we should not put off doing the things we feel led to do today. The tribal "tattoos" quickly faded (David got painted this time), but David will never forget the renewed friendships and the time spent, once again, among these special people.
Rescuing Wildlife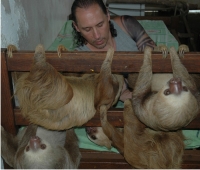 Besides his experiences with the natives, David have had the privilege of meeting many special individuals who have committed their lives to the conservation of the rainforest and all of its inhabitants in Panama. One such individual is Jessica Rosas.
Jessica single-handedly rescues and cares for a variety of wild creatures that have fallen victim of human or nature's cruelty in Panama City's Metropolitan Park. The 256-hectare park protects a wild island of tropical forest within Panama City's city limits, and is home to hundreds of bird and mammal species. Jessica sleeps on the floor, so that the many baby sloths she has rescued can enjoy the warmth of her bed. During this last visit she was also caring for two orphaned baby vultures, a falcon, a toucan that was rescued from the black market, tamarins - one of which had been in a small cage for so long that his legs were atrophied in a crouching position - and the list goes on and on. After returning them to health, Jessica will release as many as possible to the wild. For the ones that cannot be released, Jessica will try to find homes in zoos or other suitable facilities, where they can become part of educational programs.
As usual, there is an ongoing shortage of supplies and materials, but Jessica still manages to do so much with so little. Again, David promised he would try to help.
Help Needed
Besides the ongoing need for school supplies and other everyday basic items, the villagers of Llano Bonito have made a few special requests. These have been summarized those, along with the list of materials and supplies that would assist Jessica in her conservation efforts, into a "wish list". If you can help in any way and would like to be a part of this ongoing project, please check out the Get Involved section of the web site or contact us. We know that we cannot save the world but, with your help and generosity, we hope to continue to make a difference to people and wildlife in that corner of the world.
About AFC Flag Expeditions

The AFC Flag Expeditions Program is a unique program established and operated by the Artists for Conservation Foundation. The Program makes possible the field study and artistic rendering of endangered species and habitats deserving of greater public attention, with a strong emphasis on the study of unique, threatened habitats, and rare or endangered species in remote parts of the world. AFC Signature Members can apply for support and the privilege of carrying the flag of this exclusive group of distinguished artists on their journey. For more information about the AFC Flag Expeditions Program, visit www.artistsforconservation.org/programs/flag-expeditions.