December 2005: "Lemur Miniature" awarded First Place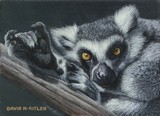 David was honoured to hear that his "Lemur Miniature" piece was chosen by artist-juror Susan Bourdet as the First Place winner in the Creative Catalyst Productions online Fall Art Show. The theme of this show was animals, both wild and domestic.
Visit Creative Catalyst's site (www.ccpvideos.com) for information on a great variety of instructional DVDs in every medium and style imaginable.