Costa Rica Workshop and Artists' Retreat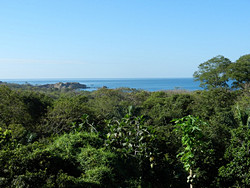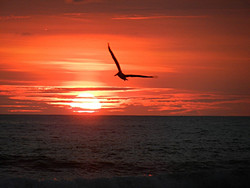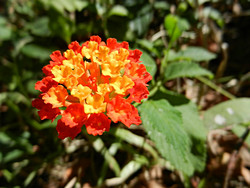 Costa Rica...
The name evokes images of natural beauty and unspoiled beaches - a tropical paradise.
The Nosara area is the perfect embodiment of these images. Located in the Nicoya Peninsula, at the edge of the Nosara Biological Reserve, Nosara's climate is characterized by a steady, year-round temperatures of between 25° and 32° C (77° and 95° F).
We could not think of a better setting in which to hold a week-long Workshop and Artists' Retreat,
to which artists of all skill levels are invited to register.
Spaces are very limited, so booking early is the only way to guarantee your spot.
Improve your drawing and painting skills, escape from your daily routine,
explore the beach or the river in your free time, enjoy the local lifestyle...
This experience will surely change you!
Dates
Arrive: Sunday, January 26, 2014
Depart: Sunday, February 2, 2014
Art Instruction
Five half-day sessions (Monday to Friday) of intensive art instruction, which will include drawing techniques, acrylics techniques, a review of composition, values, colour theory, and so much more. This schedule will ensure that participants also have time available to work on personal projects, explore the beautiful surroundings, enjoy optional activities, or simply relax.
Bonus Activities
Included free of charge for all workshop participants:
| | |
| --- | --- |
| | Reference gathering field outings |
| | Hike to a bat cave |
| | Night walks |
| | Special evening presentations |
| | Critique of participants' work |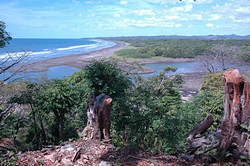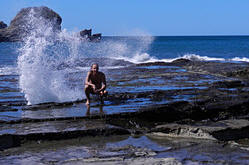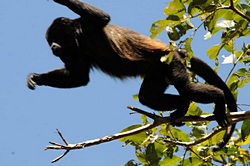 Optional Activities
Some of the optional activities available in the area include:
| | |
| --- | --- |
| | The beaches of Playa Pelada and Playa Guiones: white sand beaches, stunning sunsets, gentle coves, and world class breaks. |
| | The Nosara River and the Nosara Biological Reserve: explore the jungle trails, where monkeys play in the trees, and parrots, toucans, wild orchids, bromeliads, along with other exotic plants and wildlife abound. |
| | Sea Turtle egg laying and hatching: The nearby beach of Ostional is world famous for its "Arribadas," huge Olive Ridley turtle egg laying seasons. The nesting beach can be covered with hundreds, and even thousands of turtles during an "arribada". If you are lucky, you might also witness the hatching of the eggs, as baby turtles race to reach the ocean. |
| | Kayak or boat river tours |
| | Horseback riding |
| | Stand Up Paddling |
| | Surfing |
| | Massage |
| | Yoga |
| | Canopy and Zipline tours |
| | Sport fishing |
Please note that charges for these activities, if any, are not included in the rates shown below.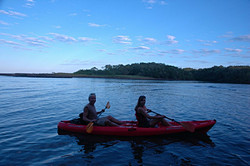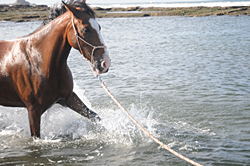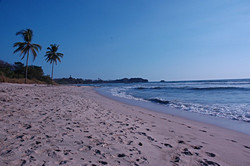 Location and Accommodations
The Workshop will be held at the charming Villa Mango Bed & Breakfast, which offers seven comfortable bedrooms with private bathrooms, a salt-water pool, wireless internet, and panoramic views of the Pacific. Villa Mango will also be providing participants with two meals each day (full breakfast and dinner), as well as laundry. View pictures of the house and rooms by visiting their website at http://www.villamangocr.com/.
Rates
$1,250 (single-occupancy in A/C rooms)
$1,200 (single-occupancy in fan-only rooms)
$875 per person (double-occupancy, if sharing with another workshop participants).

| | |
| --- | --- |
| | Please note that there are only a few rooms where this can be done comfortably, so this option is offered on a first-come first-served basis. |
Rates above include: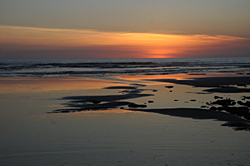 | | |
| --- | --- |
| | Five half-day sessions of Art Instruction |
| | Bonus activities (as described above) |
| | 7 nights accommodation |
| | 2 meals each day (breakfast and dinner) |
| | Room taxes |
| | Food taxes |
| | Assistance arranging airport transfers to/from Nosara |
| | Assistance booking optional activities |
Rates do not include:
Flights to/from Costa Rica
Travel and trip cancellation insurance (highly recommended)
Airport transfers to/from Nosara

| | |
| --- | --- |
| | We will work with participants to keep this expense to a minimum, ensuring rides to and from the airport are shared, whenever possible |

Meals not specified above (e.g. lunch, snacks, etc.)
Drinks
Optional activities
Reservation and Cancellation
50% deposit due by July 15, 2013.

| | |
| --- | --- |
| | Deposit is refundable is participant cancels by November 15, 2013. |
| | For the reduced double-occupancy rate, deposit is only refundable if we can secure another person to take participant's place. |

Final 50% balance due by November 15, 2013. No refunds will be made after this date, unless workshop is cancelled.
Payment can be made by PayPal, Visa, MasterCard, or American Express.
We reserve the right to cancel the workshop in case the minimum number of participants has not been secured by November 15, 2013, in which case any amounts paid by participants will be fully refunded.
For more information or to reserve your space, contact us soon!
Email: classes@davidkitler.com
Phone: (403) 254-5051